That all being said, ATMs can also be a minefield with additional fees from the local banks themselves - and in Thailand, this is a real issue with one of the highest fees in Asia.
As both a travel hub and one of the top destinations in Asia, you'd think that Thailand would make it easy for foreigners to get money from ATMs - but sadly, this wasn't my experience. Since 2014, most of the local banks charge a 200 baht fee for all withdrawals, which is about the price of five street food meals!
So after weeks of getting ripped off, I did my research and found two options for avoiding ATM fees in Bangkok.
Counter Withdrawals From a Thai Bank
Some travellers that I met in Thailand (and some blogs) have reported success with withdrawing cash from their debit card from various Thai bank branches.
I've been told that while some banks will try and charge you the 200 baht fee anyway, keep trying until you find someone who's willing. They're not meant to charge a fee - but like a lot of things in Bangkok, you're at the risk of being ripped off if you don't know what you're doing.
I never needed to try this due to the next method, but I can see how it might be useful - especially if you're somewhere else in Thailand (without Citibank ATMs) and need cash.
Find a Citibank ATM
There are three Citibank ATMs scattered around Bangkok, often attached to an actual bank branch. These are fee-free for foreign cards, but make sure that you have a debit card that doesn't charge international fees!
As an Australian, I picked up a Citibank debit card years ago. Aside from prepaid traveller's money cards (which are super expensive in their own way), this is the only debit card offered by Australian banks that doesn't charge fees for international transactions or for using foreign ATMs. If you're a traveller from the US, I've heard great things about Charles Schwab.
This is the Citibank at Interchange 21 at Asok that I frequented during my second long-term stay in Bangkok:
And this is the transaction record from using the Citibank ATM in Central World:
Crunching the numbers with the exchange rate at the time, I discovered that my conversion of $189.31 to 5000 Baht was almost identical to the official rate found on XE.com (a difference of less than 25 cents).
I would find it hard to believe that any non-bank currency exchange company could offer a rate that even comes close to this exchange rate, especially after including the standard commission or transaction fee! After years of travelling, I've only come across one currency exchange (in Amsterdam) that offered anywhere near reasonable rates.
Citibank ATMs in Bangkok can be found at the following locations: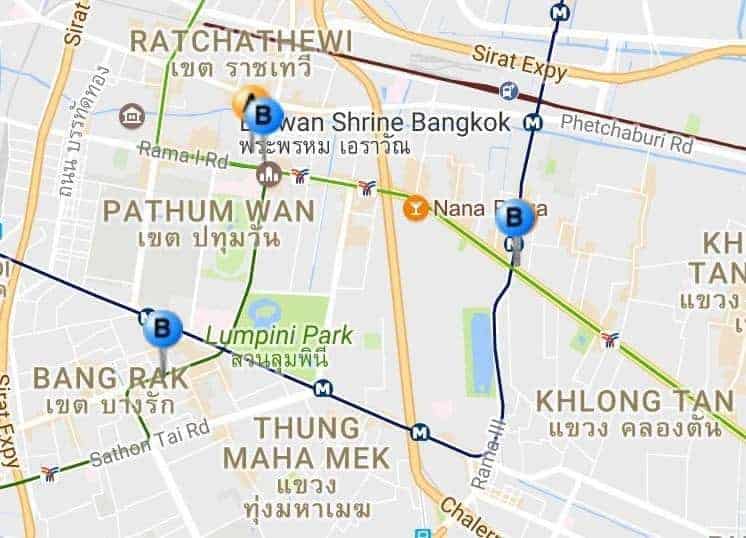 To find this map on the Citibank website, go to this link and search for "Bangkok".
The Citibank website lists the following addresses, but don't try to Google them - it doesn't really work. To make it easier for you, I've found the correct locations that you can find by clicking on the relevant link.
CentralWorld Citibank ATM
The CentralWorld Citibank ATM is in the far corner of the fourth floor of CentralWorld, near all the other bank branches. The shopping centre is big, so if you get lost, ask the information desk and they should be able to point you in the right direction.
Address: 4th floor, CentralWorld, Rajdamri Road, Pathumwan Sub-district, Pathumwan District, Bangkok
Click here to find it on Google Maps.
Interchange 21 (Asok) Citibank ATM
The Interchange 21 Citibank ATM can be found in the building with the huge Citibank sign (see photo above). If you're facing the sign, it's on the left, next to Family Mart. It's a little tucked away, so if you can't find it, go inside Interchange 21 and ask the bank branch for directions.
Address: 399 Sukhumvit Road, Interchange 21 Building (Asoke Intersection), Klongtoey Nua, Sub-district, Wattana District, Bangkok
Click here to find it on Google Maps.
Silom Citibank ATM
The Silom Citibank ATM is relatively easy to find as it's right on the road. Have a look at the photos (or Street View) on Google Maps to see what the building looks like before heading over.
Address: 323 United Center Building, Silom Road, Silom Sub-district, Bangrak District, Bangkok
Click here to find it on Google Maps.
Other Options for Cash Withdrawals
Personally, the CentralWorld and Interchange 21 Citibank ATMs were the closest by for me, and I withdrew money multiple times with no issues whatsoever.
I've heard some reports that there is also an ATM in Chiang Mai, but other sources have reported that this is either false or the branch has been closed down. So if you're starting your trip from Bangkok, I'd recommend heading to a Citibank ATM as soon as possible and withdrawing some Baht before heading off. Bangkok is right in between Thailand's northern and southern tourist locations, so it's even possible to schedule in a pit stop halfway through your trip.
If you can't find a Citibank ATM and the counter withdrawal isn't working for you, you might just have to accept the fee. Still, not all ATMs are equal!
AEON Bank is a Japanese bank that charges a slightly lower fee - 150 Baht compared to the standard 200.
Krungsi Bank allows you to withdraw up to 30,000 Baht each time, which is the largest amount of any ATM in Thailand. Most ATMs allow around 20,000. If you're going to pay the fee, you might as well try and minimise the number of times you need to withdraw cash from the ATM!
Other Ways to Save Money in Thailand
Use card. Since it's safer not to carry too much cash, it's a good idea to try and use your credit or debit card (without international fees, of course) whenever possible. Street vendors won't accept card, but you might have better luck at cafes, restaurants and bars.
Pay in local currency. If you're paying by card, the shop owner might ask if you want to pay in the local currency or in your home country's currency. If your card doesn't have international fees, always choose local. In-store conversions usually incur a fee, or a subpar conversion rate. If you play your cards right (sorry, couldn't help myself), you might earn some airline miles as well.
Bargain, but within reason. Seriously, don't try and haggle over 10 Baht at a street food stand. Don't be that guy. But if you're getting a taxi or buying a pair of elephant pants, start with the assumption that they're overcharging and bargain to your heart's content.
Book bus and train tickets online. After spending a month of booking tickets through local travel agents, I realised that tickets are far cheaper online since prices are non-negotiable and don't charge huge commissions. 12Go.Asia covers all of South-East Asia and shows you the prices for not only buses, but even trains, taxis and flights - all in one search. Booking in advance also tends to be cheaper, so be sure to check out the 12Go.Asia website before you set off.
Safe travels!