It only takes a couple of days in Germany to realise that you're now living in a cash society. Your credit card might get used once a week at best, and good luck finding anywhere that accepts American Express. I cancelled mine after a month or so of arriving in Berlin, followed by another credit card several months later.
At this point, a lot of people go through the same sequence of emotions: confusion, frustration, despair, then finally, acceptance. During this time, you've sunk over 50€ in fees alone through terrible exchange rates, ATM fees of 3-5€, plus an extra 2% "international fee" from your bank back home.
Maybe it's time to convert your money into Euros and get a local German bank account.
But which one?
Which is the Best Bank Account for Expats in Germany?
As always, the word "best" means different things to different people. That said, if you're reading this article, it's probably because you're thinking "what's the best German bank account for expats?" as opposed to "welche Bank ist die Beste?" or something similar - which means you probably want a bank that operates in English.
If my guess is correct, then the best bank for you is N26.
Even if you speak fluent German, this is still your best bet if you want a bank that lives in the 21st century and doesn't operate through the postal service like the rest of the country (seriously). N26 is the only bank that is unanimously recommended by expats and locals alike.
N26: The Best English-Speaking Bank for Expats
N26 is the only bank in Germany that operates 100% in both German and English, with customer support in both languages as well as French, Spanish and Italian. There are no account fees and you get free ATM withdrawals with the included debit MasterCard (as well as a Maestro Card if you want it). International purchases are also fee-free.
N26 can afford to provide the services it does because they don't have physical locations - they're a digital bank. More importantly, N26 is a real bank with a full European banking licence, unlike a lot of other digital "banks" and fintech start-ups that have been popping up in the last few years. This also means that your money is protected by the German Deposit Protection Fund, which guarantees all customer funds up to 100,000€.
To top it all off, the app also brings some money innovations to the table such as Spaces, Moneybeam and Cash26. Plus, their cards and app are beautiful. Not a necessity, but the attention to detail is definitely appreciated. They even have a useful integration with TransferWise for sending 19 different currencies at real market rates, which is significantly cheaper than using a regular bank rate.
Also see: Long-Term N26 Review (3+ Years)
If you want to get even more functionality, "N26 You" includes travel insurance, free worldwide withdrawals, and selected discounts and offers from partner brands for 9.90€ per month. The next step up, "N26 Metal", gives you dedicated customer support, exclusive access to unique Metal Experiences, and a metallic metal card that comes in three colour shades for 16.90€. To see the full breakdown, navigate to the pricing page on the N26 website. But for most, the free account is more than enough to get started.
How to Open a Bank Account with N26
To get started:
Download the N26 app
Verify your ID by video call or PostIdent (more on this below)
Pair your smartphone with your account
Add funds using TransferWise
The application process is pretty straightforward - just follow the prompts. Otherwise, keep on reading for some more specific details.
Personal vs Business Accounts
Opening a bank account with N26 is very simple, but there's one thing to keep in mind before you get started:
Do you want to use your account for personal use (e.g. receive salaries, pay bills)?
Or do you also want to work in Germany as a freelancer and use your N26 account to receive money from your invoices?
Strangely, you can only pick one - and if you use your personal account as a freelancer, you are explicitly going against their Terms of Service and may end up getting your funds frozen - and it's impossible to switch, once you've chosen one or the other.
Generally, I'd recommend using your N26 account for day-to-day banking, and getting a separate business account with Holvi - another great digital bank that specialises in business banking - mainly for freelancers and entrepreneurs. N26 on the other hand, focuses most of their efforts on personal banking, so it makes sense to split it up this way.
Step 1: Personal Details
Start your application process by clicking on this link.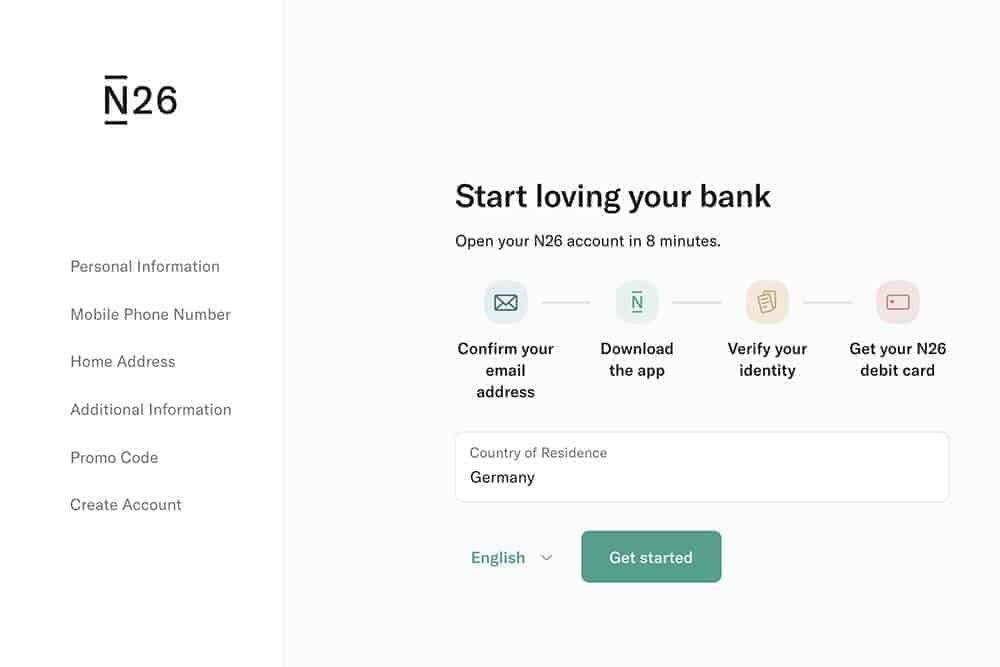 Follow the prompts and fill in your personal details as they appear on your passport or any other official ID.
There is also a section for a promotional code. N26 used to credit 15€ to both the referrer and their friend, but this has since been phased out. I have a personal code, but you don't get anything from it, so don't worry about this. Just make sure to click on the links on this website so they know you came from me - that's thanks enough for me 🙂
Once that's done, you'll be asked verify your email address.
Go to your email provider, click confirm and you'll be sent to the next step.
Step 2: Choose Your Account Type
N26 recently underwent a refresh of their plans, and they now look like this: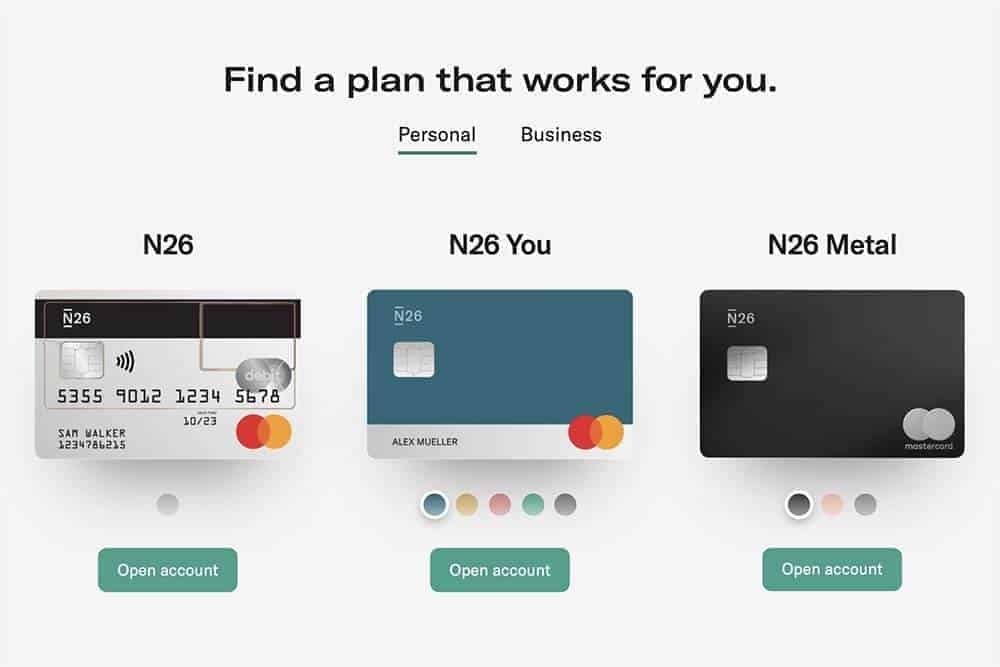 Pricing and inclusions are as follows.
N26
Price: free
Free ATM withdrawals in Euros
Free payments in any currency
N26 You
Price: €9.90 per month
Free ATM withdrawals in Euros
Free payments in any currency
Free withdrawals worldwide
Allianz insurance package
Selected discounts and offers from partner brands
Choice of 5 colours for your debit card
N26 Metal
Price: €16.90 per month
Free ATM withdrawals in Euros
Free payments in any currency
Free withdrawals worldwide
Allianz insurance package
Selected discounts and offers from partner brands
Exclusive access to unique Metal Experiences
Dedicated Customer Support
Choice of 3 colours for your metal debit card
Most people would best suited for the standard, free plan - you can always upgrade later. For more specifics, I'd suggest going directly to the N26 website to get the information from the source.
For freelancers: there is also a choice of Business accounts but I would recommend going with Holvi as they have better business-oriented features.
Step 3: ID Verification
Once you've chosen your plan, the next step is to verify your identity. Depending on your passport and location, ID verification can either be done through the N26 app or via something called PostIdent.
This step confuses a lot of people as it's recently changed, so pay attention to the prompts!
In particular, Australians living in Germany have earned the reputation of abusing N26 accounts, so an Australian passport is no longer enough - you need a residence permit (for a minimum of one year) as well. Literally every other non-EU passport doesn't have this restriction, so we must have really messed something up. But don't worry, the process is still quite easy.
You can find a full list of passports and the documents required for verification here.
Generally speaking: start with the N26 app, have your verification documents ready and follow the instructions. You'll be put through to an N26 employee who will then ask you a series of questions to make sure you and your documents match up, then will ask you to hold up your documents to the camera. The whole process only takes a few minutes.
If you need to use the PostIdent method, you'll be emailed a form that you'll need to print out and take to the post office (Deutsche Post, not parcel delivery shops) with your documents to be verified in person. This service is free and takes up to a couple of days before you receive a follow-up email that confirms your verification.
Step 4: Pair Your Smartphone
Once you've completed the identity verification process, you'll need to pair your smartphone with your account. Simply open your app (or go to the N26 website) and follow the prompts.
You'll receive a four digit verification code via text message! Copy that in, and your smartphone is now the authorised banking device! From then on, it's a much smoother process than the old school text message verification that many banks still use. All online transactions will need to be approved through the app on the your phone, and if supported, you can even use your fingerprint to authorise transactions.
You can use your bank account straight away, but your debit card will arrive in the post within a week or so.
Step 5: Convert and Transfer Funds
That's it! You now have a German bank account.
That being said, you probably don't have any Euros yet. That's easily fixed with TransferWise - hands down, the best currency exchange provider right now. They have an incredibly easy to use interface and offer the most competitive exchange rates - better than literally* anything a bank or any other currency exchange can offer (*word used correctly).
Signing up is incredibly easy - you can even use your Google or Facebook account to speed up the process. Once you've signed up, log into the N26 app or the website to get your account details. In the app, the person icon at the top left shows you these details - you'll need your full name (as it is on the account) and your IBAN to make a TransferWise transfer.
Final Thoughts
There are some other banking options available which I'm currently investigating, but there are no real alternatives for English speakers that don't speak German, and no other bank makes it as easy to set up an account. If you have any issues, you don't need to physically go to a bank branch - just go straight to their website and you can open a text chat with their 24/7 customer support within minutes, in any one of their support languages.
If you need to exchange your home currency to Euros to transfer them over into your new N26 account, TransferWise makes this very simple while also offering the best exchange rate on the market. That isn't hyperbole or exaggeration - I've not found anywhere else that gets even close. When transferring money out of your account to another currency, N26 have actually integrated TransferWise into their app.
N26 is a bit of a unicorn in Germany right now - no other bank supports English (and other languages) on the same level. Even better, the level expat-friendliness is unprecedented where a shake of the head and a sigh is the norm. Sure, they've had its share of problems too, but in the last year, they've well and truly found their feet.
Learn more about which N26 bank account would work best for you.